Minimal Living: The Less You Own, The Less It Owns You!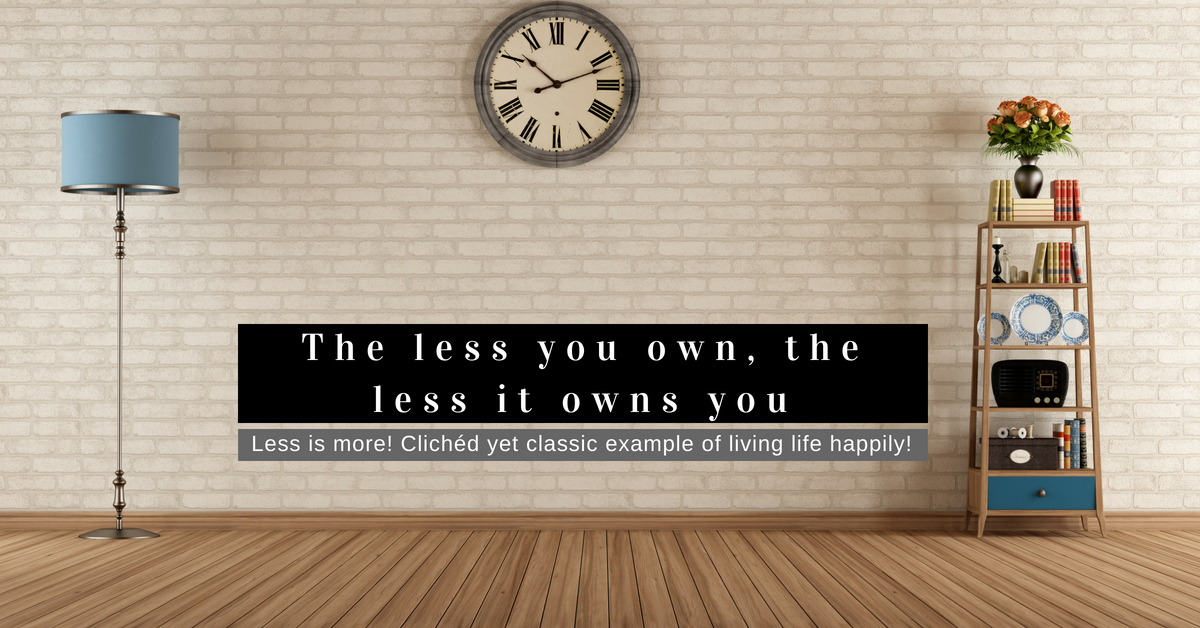 Less is more! Clichéd but classic example of living life happily.Minimal living has different concepts to many people. Minimal living begins in the mind; it is about owning manageable items aka less. However, it goes beyond than just "material items". It goes beyond health, wealth and even relationships. We stuffed our lives with too much of everything. Clutter is something that can wear on us emotionally, thus have less and live life more.
For example, a car is only meant to carry people to different destinations, but having 5 cars in the parking lot means just the same thing. Having one car may not only save fuel but also provide a quick mind to clutter. You just can't instantly decide which car that you are going to use. Unlike your homes, the vehicles would still continue to depreciate as far as they continue to remain in the parking lot.  Why don't you buy a decent car and save yourself from all the complications? It's not about enjoying life because you are able to, but it is about how you are loading your life with too many complications. Complications cause you to have stress but minimal living is stress-free.
There is more than One Way to View Minimal Living
For some people living minimalist means living in a desolate state and yet for others, it means luxury living. Many times it happens even though you clean your room every morning, you find it cluttered the very next day.  People remark how the house is always clean and some accuse of being a neat freak. But they fail to recognize that house is simply organized.  The organized and clutter free house always looks clean whether it's new home or a year older. Regardless of how expensive things are too much stuff in an area is clutter!
How can minimalist living change your life?
Gives you more time to spend on other work: Do you know that organizing items you no longer need is a waste of time? Why? It means you will end up coming back to those very items in order to repeat the process.
Make you realize you don't need much: When you have less, you appreciate and cherish what you do have even more.
Material things don't make you happy, clutter-free home does: Get rid of clutter. Make it a point to get rid of at least three items in your house every day. Slowly but surely, notice the change.
Save more time by living with less stuff: Minimalist lifestyle will save you time in terms of cleaning, tidying up, and reorganizing your home.
Clutter Can Cause Anxiety: Every possession you own, has the potential to weigh you down. You have so many items you need to worry about, care for, and maintain.
It doesn't matter you are tidy or not. All you need to do is to have less stuff that you are able to use. Being minimalist doesn't mean you have to spend less money, it means you can still spend more and buy less stuff of high quality that will last long.  For example
Other than having a lot of stuff, many people lack contentment. Wanting to get quick access won't guarantee the much-needed happiness; rather it will continue to make your life even more difficult. Minimalistic living involves having enough for that period as long as the basic needs are met. Many people find it hard to be content possibly because they usually compete with other people. Don't sacrifice your life to those possessions that everyone out there is chasing.
There is a number of people who think that minimalist living is only meant for the common people in the society. But by owning fewer, high-quality things, your quality of life is improved. You have chosen quality over quantity and can truly enjoy what you own.
Quite simply, living a minimalist lifestyle means clearing the physical and mental clutter from your life. It means loving the things you have and improving your quality of life. Pacifica Companies believe in quality and come up with Madrid County; an assemblage of Villas and Apartments is an initiative to add a charm to your minimal living. 2 bhk flats in Vadodara offer a heavenly lavish life with a blend of ultra-modern outlook and provided with world-class infrastructure, villas in Vadodara that lends you an ultimate experience of posh.